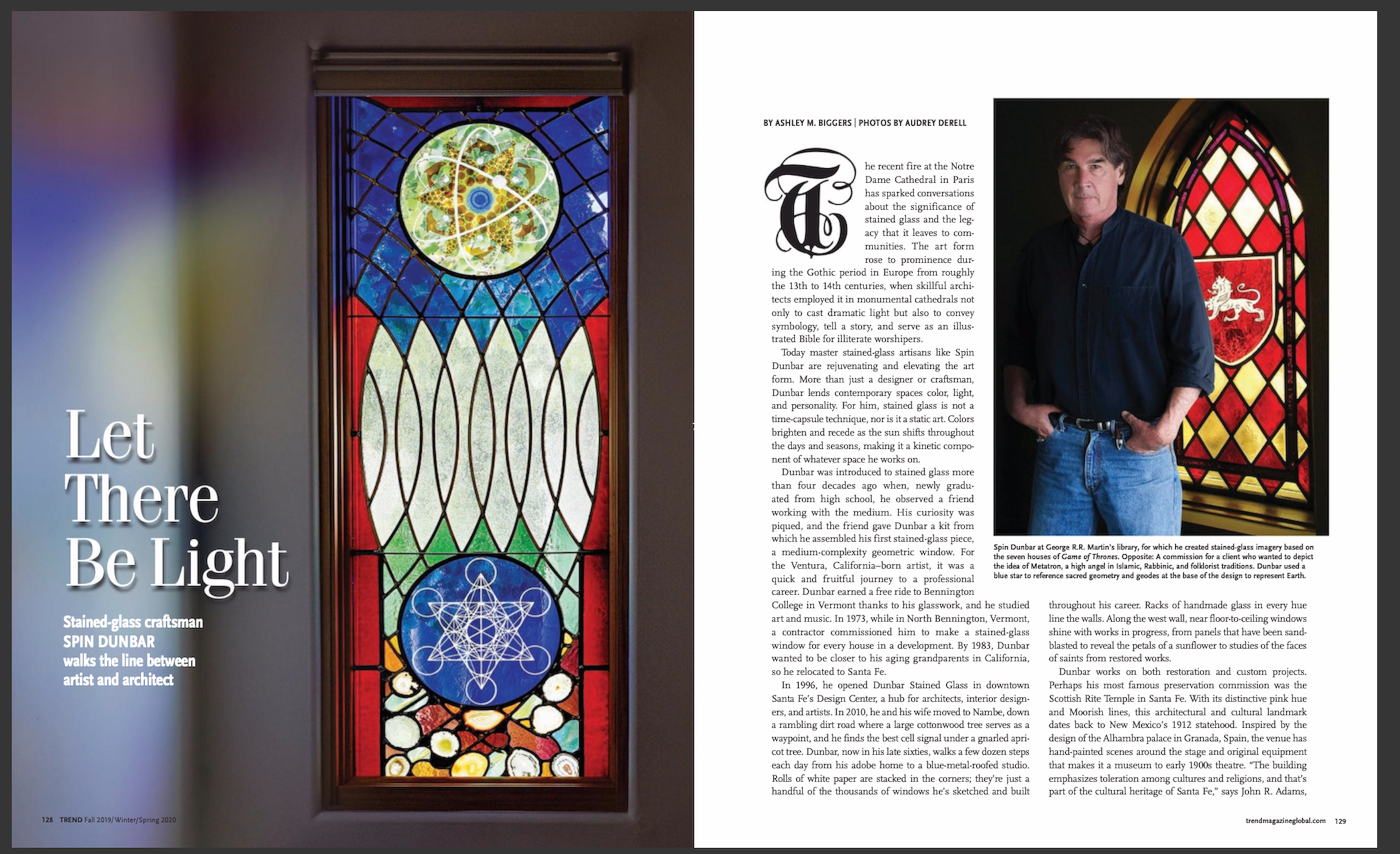 This is a maquette for a commission that I just completed, yet to be installed. Two of the pictures are with transmitted light, the other with LED around perimeter. The photo is blown out, the effect is quite startling in person.
Work accomplished today! Tedious, but necessary. I had to scale up from my original drawing, a scale of 1/8" to an inch. I gridded the sketch in 2" increments, then did the same to the full size drawing. Since the window/doors stained glass is based on a circle, I therefore have to draw the full size door/entry. These are just the doors, I will add the side lights later. the double door entry is about 7 1/2' tall by a little over 6' wide. Tomorrow I will finish scale up, begin the dirty work! Something that is not evident at this point, once glass is cut, it will be painted and fired in the kiln for shading and texture!
FUN!!
While I work on the Artesia Public Library, I have been commissioned to design and create this transom wall of glass for Bethlehem Lutheran Church, Los Alamos, N.M. Here I am on site, measuring the windows, next picture is the beginning of the creative process, small scale sketch waiting for design! Once the design was finalized and approved, the glass was selected and the cutting begins. I wax the cut pieces as the project progresses to visualize color connections. These photos show the window coming to life. The final picture of the window installed.
This is the scaled drawing for the Artesia Public Library, Artesia, N.M. I will post as I build the windows. The library houses the Peter Hurd mural, 46' x 16', titled "The Future Belongs to Those Who Prepare for It".
An excellent article in the New Mexico Magazine, February 2016, the largest move of a fresco in the world.
I have been honored to create this entryway inside the library.
The other 2 pictures show scaling up to full size cartoon. The completed project
Painting on glass can be fun! Here is a glass painting I did based on the underworld from the Book of Prayers! Do you dream like this?
When painting on glass, using the sgraffito method, you first determine light and dark, and how to best contour and blend. As an example, I have chosen to paint this wonderful woman, a face so full of character!